Local Youths Impress at State Livestock Event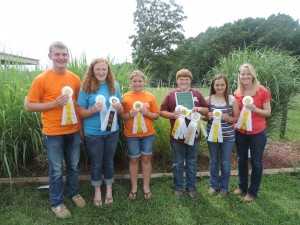 I'd like to take today to congratulate the members of Wayne County who participated in the State 4-H Youth Livestock events on July 16 and 17 held at the Beef Educational Unit in Raleigh, NC. We all learned a lot and had a great time!!
On July 16, participants from around the state attended and judged 10 classes of animals. Goats, sheep, pigs, and cattle were represented in the classes. 4 sets of oral reasons were necessary for the senior age division and only 2 sets for the junior division. Both divisions also had two classes classified as "questions" classes. Alan Johnson, 15, placed 8th in cattle judging and 8th overall in the senior division. His score in judging allows him to practice and try out for the National 4-H Livestock Judging team. Great job Alan!!
On July 17, quiz bowl and skillathon were on the agenda. I am happy to report that Wayne County did not disappoint in these events either. Quiz bowl is a team vs. team event in which participants answer questions about livestock by buzzing in faster than the other team. Although we did not win junior quiz bowl, the kids enjoyed participating! Skillathon involves identification of various livestock tools, breeds, meat cuts, feedstuffs, and hay or wool evaluation, in addition to a written test. Mary Dunn, 15, placed 10th in hay evaluation and 8th in quality assurance in the senior division. Daniel Dunn, 13, placed 7th in hay evaluation, 3rd in identification/written test and 4th overall in the junior division. Our Junior Skillathon team, comprised of Erin Barnett, 10, Daniel Dunn, 13, and Taylor Glover, 14, placed 4th overall in identification/written test. Congratulations everyone!!
This is only the beginning for Wayne County youth livestock. The State Fair Skillathon competition will be held in late October, there will be a competition at the Wayne Regional Agricultural Fair, and several others will be held throughout the year. In addition, the livestock showmanship circuits will start soon!! We look forward to these events and showing what we can do; it's a ton of fun and the youth always learn something new at each competition.
Please contact the Wayne Cooperative Extension Office at (919) 731-1525 if you are interested in participating in the 4-H youth livestock program.
Stefani Garbacik is a Livestock and Forage Extension Agent with the North Carolina Cooperative Extension. If you need any further assistance, please contact her at Stefani_garbacik@ncsu.edu or (919) 731-1525.